The inaugural class of the Mercer County Basketball Hall of Fame, 2018.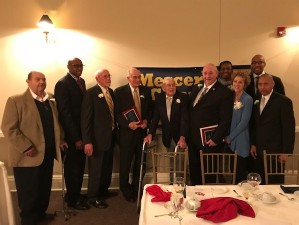 Enlarge this photo in separate window

Left to right: George O'Gorman, Hollis Copeland, Bob Plumeri [for Fr. Clarence O'Shea], Emil Wandishin, Norm Van Arsdelan, Nick Werkman, Vicky Piccott, Kate Larkin, Dahntay Jones and Greg Grant. Inductees Tal Brody and Val Ackerman were unavailable.



The Mercer County Basketball Hall of Fame committee will induct its third class on April 19, 2020 at 3:00 P.M. at Mercer Oaks.

The 2020 inductees are:


Michelle Campbell (Notre Dame)

John Castaldo (McCorristin coach)

Mykeema Ford (Trenton)

Bob Pugh (Official)

Val Ackerman (Hopewell Valley)

Jim Davis (Sportswriter)

Deon Hames (Hun)

Bryan Caver (McCorristin)

Sean Casey (Peddie coach)

Also this year, the Hall of Fame will award the George O'Gorman Memorial Scholarship and the Jim Davis Memorial Scholarship to a pair of deserving players.



Read the biographies of past inductees.